Welcome to the "Red House" – St Anthony's Catholic Club!
Comprising one of the most amazing venues in the heart of Forest Gate, Newham, East London, The Red House offers a unique community members club that is friendly, safe and inviting to everyone.
Founded in 1907 as a social meeting place for members of the Catholic Community in Forest Gate. The club was built on key Catholic principles including:
Life and Dignity of the Human Person.
Call to Family, Community, and Participation.
Rights and Responsibilities.
Support for the disadvantaged.
Dignity of Work and the Rights of Workers.
Solidarity.
Whilst these principles are still relevant today, the Red House continues to move forward with the times and reinvent itself into a modern, vibrant and inviting community club that is now proud to say, everyone is welcome to become a member or associate member regardless of faith, gender, age, race or orientation.
The Club Motto:
Behold how good and how pleasant it is for brothers and sisters to dwell in unity. (Ecce quam bonum et jucundum habitare fratres et sorores in unum)
Whats On For Members?
Weekly Fitness Classes –

Fortnightly Well Being Classes –
Next Members Event – 12th March 2022

Join us for a Pre St Patricks Day celebration on the 12th March 2022, where we will have great fun and comradery over the six nations England v Ireland Rugby Match!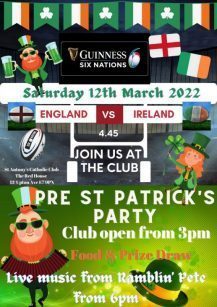 Become a Member and gain access to a remarkable community and venue hire opportunities.
Birthday Parties

Childrens Parties

Photo Shoot Venue

Garden Parties

Yoga/ Hall

Weddings

Photography hire

Family Gatherings

Staffed Bar Facility

Keep Fit / Martial Arts